Our Nursery Rooms
Our nursery is based on the first floor of the Schofield Family Centre which is accessible by a lift or staircase.

Entrance
As you enter our nursery, you will be welcomed into our reception area where photos of all of the practitioners can be found along with a copy of all of the nursery's policies and procedures. As you move further into our nursery you will find a pushchair park where you are welcome to leave your folded down pushchairs.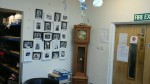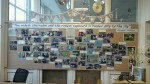 Rooms
Our nursery is divided into three age groups:
Our Stars Room caters for children under the age of 2 years old.
Our Rockets Room caters for children between the ages of 2-3 yrs old.
Our Comets and Galaxies Rooms which make up our pre-school provision catering for children aged 3 & 4 yrs old.